Join me for retreats and workshops. Weekend and custom retreats. Workshop topics range from cooking classes to informational presentations. Let me know if you would like to set up a custom program for a private group, corporate event or yoga studio workshop!
Join me at Everman's in Pensacola, FL for a workshop on how your diet can help or hurt you when you have an Autoimmune disease. Presentation, handouts and sample will be given. There is no charge for this event. For event sign up and details please visit Everman's Website http://everman.org/events/upcoming/
Join us in the beautiful Blue Ridge Mountains for yoga, herbal workshops, hiking, wine tasting and music! You can't ask for more in the most beautiful place on earth.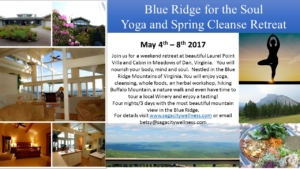 Join me at URU Yoga in beautiful Gulf Breeze, Florida for a fun and interactive cooking class. We will cover the basic principles of how to go about cleaning up your diet in a fun and informative way. Class will include handouts, cooking demonstration, and a light meal. Cost is $25 per person. For more information please find my contact information on this website. Or sign up at URU Yoga & Beyond http://www.uruyoga.com/uru-event-schedule/ Class size is limited so sign up today!!
Join Betsy LeGallais, Nutritional Chef, Certified Holistic Nutrition Counselor, and Yoga Instructor for a fun, informative and ful"filling" work shop. We will practice yoga, enjoy a light healthy lunch and talk about 5 healing herbs and how to use them. The cost is $25 per person and reservations are requested as we need to plan on the proper amount of ingredients.
Saturday, September 2nd from Noon-2pm
URU 955 E. 9 Mile Road, Ste. 102
Pensacola, FL 32526
List of Workshops and Retreats (see description above)
April 10 – Autoimmune workshop Pensacola
May 4-8th – Yoga Retreat in the Blue Ridge Mountains
May 24 – Basic Principles of Clean Eating
September 2, 2017 Yoga and Herb Workshop

Health Disclaimer:
Please let us know if you have a medical condition or food allergies that we need to be aware of.